Meet Rev. Fr. Frank A. Milanese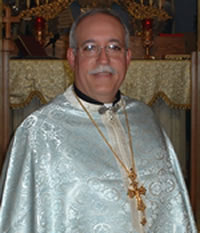 Fr. Frank is native to West Virginia. He was born in Morgantown and has additionally lived in Grafton, Weirton, Westover and Granville while growing up. He graduated from West Virginia University with a B.S. degree in Computer Science.
From his Sophomore year in High School through his Junior year at WVU (1967-1973), his family resided on Hudson Avenue in Weirton. So the Weirton community considers Fr. Frank one of their own.
In addition to his current assignment as the priest for the All Saints parish, Fr. Frank has also served in the following capacities within the Metropolis of Pittsburgh:
Past Chairman of the Metropolis of Pittsburgh Religious Education Commission (5 years)
Executive Director of Mount Tabor Ministries – Camp and Retreat Center Project (2 years)
Priest of St. George Greek Orthodox Church in Huntington, WV (10 years)
Associate Pastor of Annunciation Greek Orthodox Cathedral in Columbus, OH (4 years)
Director of Youth Programs – Diocesan Youth Office (2 years)
Assistant Priest of Annunciation Greek Orthodox Church in Akron, OH (2 years)
Besides a professional career in Data Processing before he was ordained, Fr. Frank has also served in a variety of pastoral, inter-christian and administrative services throughout the years.
Fr. Frank was assigned as the full-time priest to All Saints in September, 2005, and had been serving the parish on a part-time basis since March, 2005. His wife, Cynthia, and his sons, Christopher and Matthew, make up his family.
Locally, Fr. Frank is a member of the Weirton Ministerial Association, and has previously served on the Board of Directors for the Weirton Community Bread Basket.