Lenten Service Schedule Change All 2021 evening Lenten services including Great Complines, Presanctified Liturgies, Salutations and Great Vespers will begin at 6:00 p.m.
Direct Live Streaming Services
(NO Facebook account required)
Use the carousel above to to view the latest online Services.
  If a Service is currently being live streamed it can be viewed here and will remain viewable until the next service is recorded.
Please make sure to refresh the page to view the latest Service.
---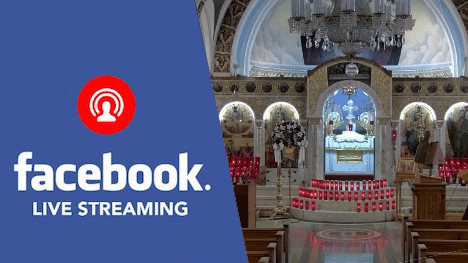 Facebook Page Live Streaming Services
(Facebook account IS required)
You can also
click here to watch our live streams directly from our Facebook page. 
If a service is being streamed live, it will appear near the top of the Facebook page.  Past services and other videos are also available at this link.  Please note that you must have a personal Facebook account which is free on the Internet.  Once you register for your free account, try the above link again.
2021 Services of Holy Week - A Synopsis
For 2021, Holy Week & Pascha begins on Sunday Evening, April 25, and continues through Sunday, May 2, one month after Western Christianity celebrates Easter.
These services are subject to change depending on the severity of the Coronavirus Pandemic at that time. Please note time change on most evening services is 6:00 p.m.
PALM SUNDAY EVENING - April 25, 6:00 p.m. Services on Sunday through Wednesday evenings are called the "Bridegroom" services due to a special hymn, "Behold, the Bridegroom Comes", sung at these services. Sunday evening's special theme is the unfruitful fig tree.
HOLY MONDAY EVENING - April 26, 6:00 p.m. Monday evening's special theme is the Parable of the Ten Virgins (wisdom and preparedness).
HOLY TUESDAY EVENING - April 27, 6:00 p.m. Tuesday evening's special theme is the Anointing of Jesus before his death, and the call to repentance.
HOLY WEDNESDAY - April 28
MORNING - 9:00 a.m. Presanctified Liturgy
AFTERNOON - 3:00 p.m. The Sacrament of Holy Unction (Greek/American Tradition), for the healing of soul and body.
EVENING - 6:00 p.m. Wednesday evening's special theme is the mystical supper (institution of the Holy Eucharist) along with other themes, and then anointing with Holy Unction.
HOLY THURSDAY- April 29
MORNING - 9:00 a.m. Divine Liturgy commemorates the Last Supper. Also, the reserve sacrament is consecrated now for the entire year.
EVENING - 6:00 p.m. Special service with 12 Gospel readings that tell of the arrest, trial and crucifixion of Christ.
GREAT FRIDAY- April 30
MORNING - 9:00 a.m. Royal Hours (Recap the arrest, trial, judgment & crucifixion of Christ).
AFTERNOON - 3:30 p.m. The taking down of the body of Christ from the cross.
EVENING - 6:00 p.m. The "Lamentations". The Funeral and burial of Jesus.
HOLY SATURDAY MORNING - May 1 9:00 a.m. Liturgy remembering the Descent into Hades of Christ, breaking the gates of Hell and binding the devil, causing the earthquake that was felt when Jesus died on the Cross.
EASTER SUNDAY - May 2 (from the Eve of May 1)
SATURDAY EVE- 10:30 p.m. Preparation for the Resurrection; and then at 11:00 p.m., The Resurrection Service, followed by the Orthros, and Divine Liturgy of St. John Chrysostom at midnight.
SUNDAY MORNING - 11:00 a.m. Agape Vespers done in many languages. This reminds us that the message of Christ went to the entire world.
Quotes & Scripture
Holy God, Holy Mighty, Holy Immortal, have mercy on us.
What better New Year's Resolution than to start the year with Humility.
---
Matthew 22:37-40  Jesus said to him, "'You shall love the LORD your God with all your heart, with all your soul, and with all your mind.'  This is the first and great commandment. And the second is like it: 'You shall love your neighbor as yourself.'  On these two commandments hang all the Law and the Prophets."
All Saints Weirton YouTube